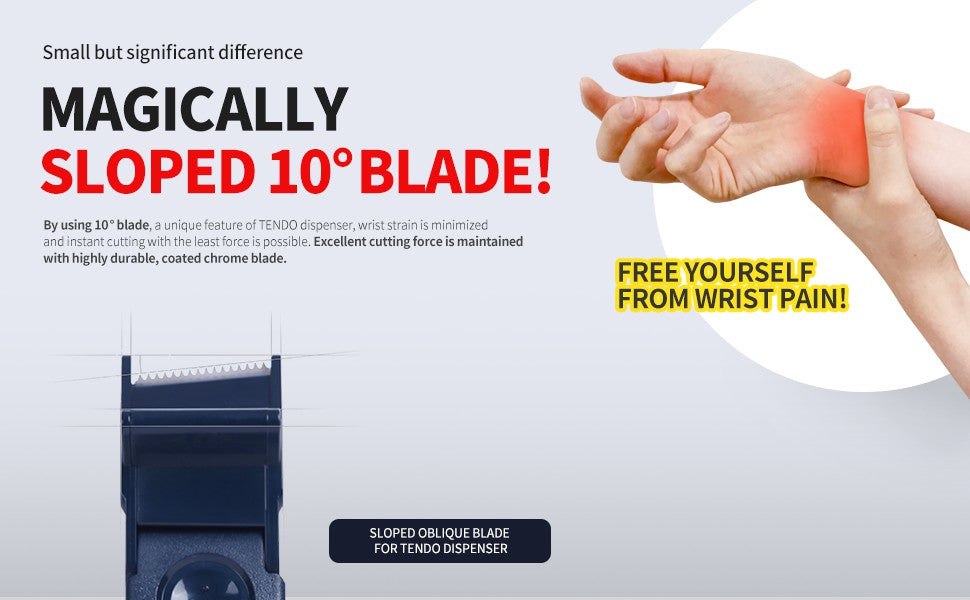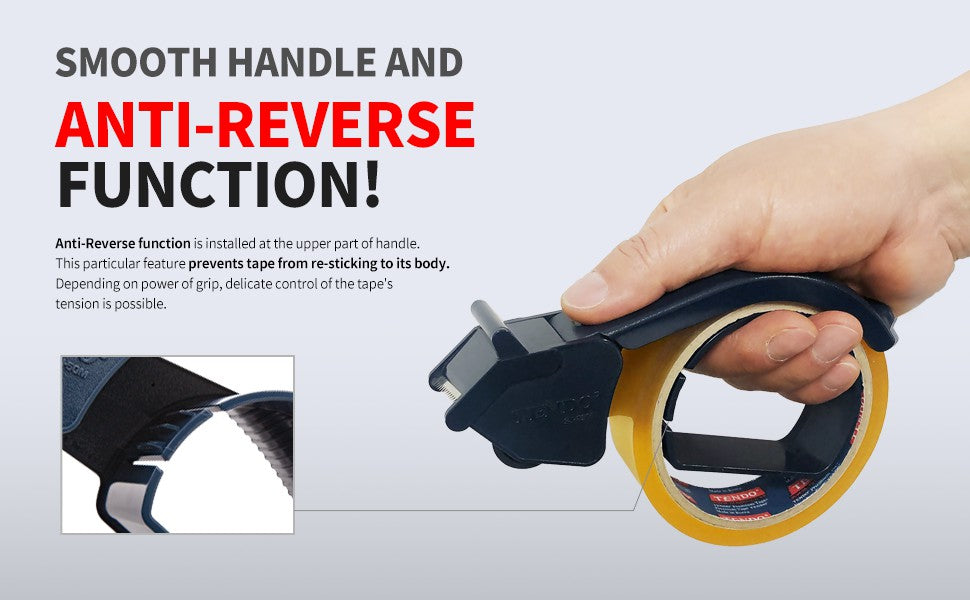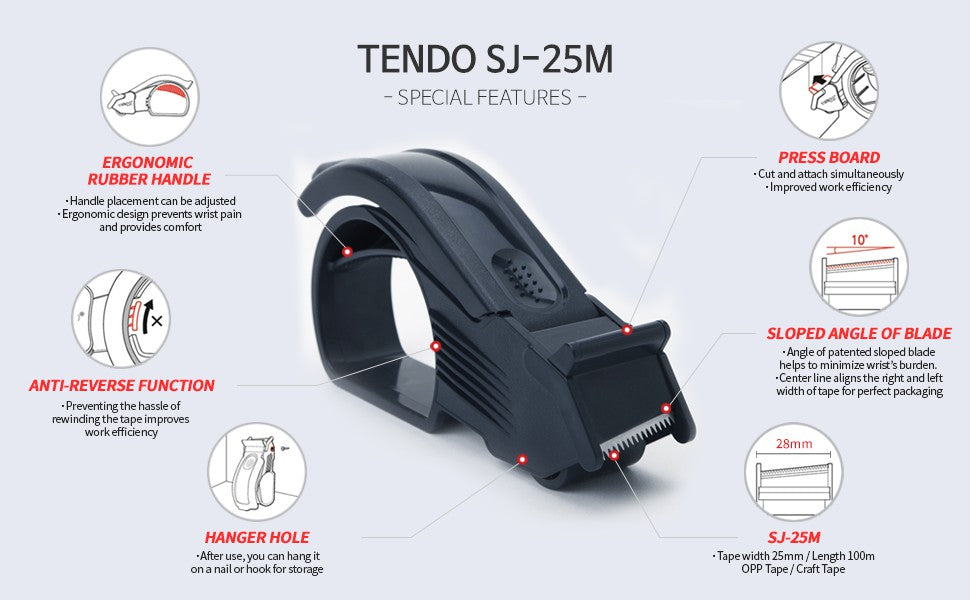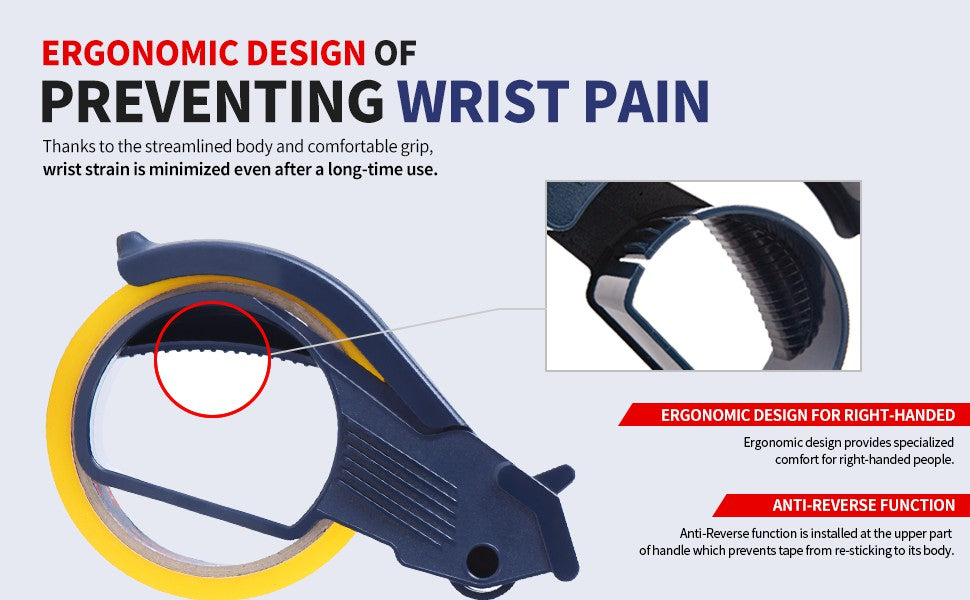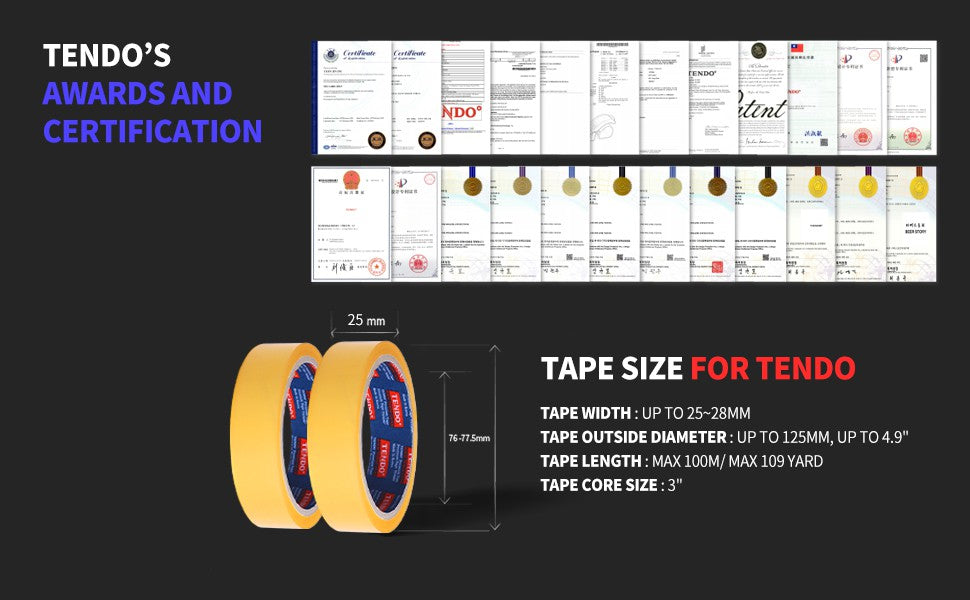 TENDO° Basic Line: Tape Dispenser for 20 ~ 25mm tapes with a patented 10° sloped Chromium blade (A 25mm tape is included)
CUT OFF ALL YOUR WORRIES WITH TENDO, EVEN TAPES! – Have you ever had a sore wrist by using discomfort tape dispensers? After more than 5 years of constant communication with consumers, Tendo has finally reached its solution. The Tendo Tape Dispenser is designed ergonomically, and TENDO's specialties including amazing cutting power will enrich your works. You will ABSOLUTELY love your time with our Tendo Home & Office Line Tape Dispenser
THE WORLD'S FIRST PATENTED 10° BLADE – Chromium plating and 10 steps of abrasive processes of Tendo's Blade provide strong durability and cutting power. We made every effort to make it convenient for consumers. Tendo's Blade provides the Safe Guide for preventing damages from droppings and cutting oneself. Blade Replacement Function is also available
ERGONOMIC DESIGNS WITH DURABLENESS - Ergonomically curved handles, for minimizing wrist fatigue from long-time usage, are surely innovative. With just a small grip force, sensitive tension controls are possible. As of Handle's Adjustable Function, Left-handed and Right-handed, even small-handed people can use Tendo with ease. The Urethane Handle provides the best grip without slipping. We certainly want to recommend this dispenser to you
NUMEROUS AWARDS AND RECORDS, BUT NEVER DUPLICATED – America Pittsburgh INPEX, Germany Nuremberg iENA, Seoul International Invention Fair e.t.c... More than 10 International Awards and Records will guarantee your choice. Find out why more than thousands of consumers love their Tendo Tape Dispenser! There are lots of tape dispensers out there, but none can hold a candle to our Tendo the Premium Tape Dispenser when it comes to quality and functionality
SJ-25M is suitable for narrow tapes, such as 24mm or 25mm wide ones. (With the dispenser, a 25mm wide tape is included in the package.