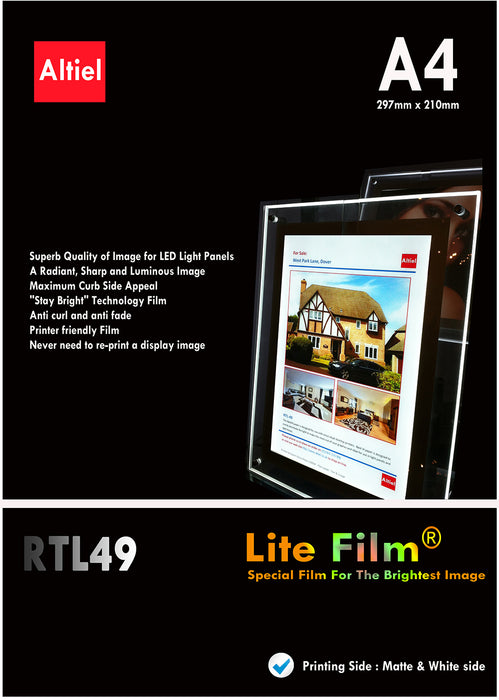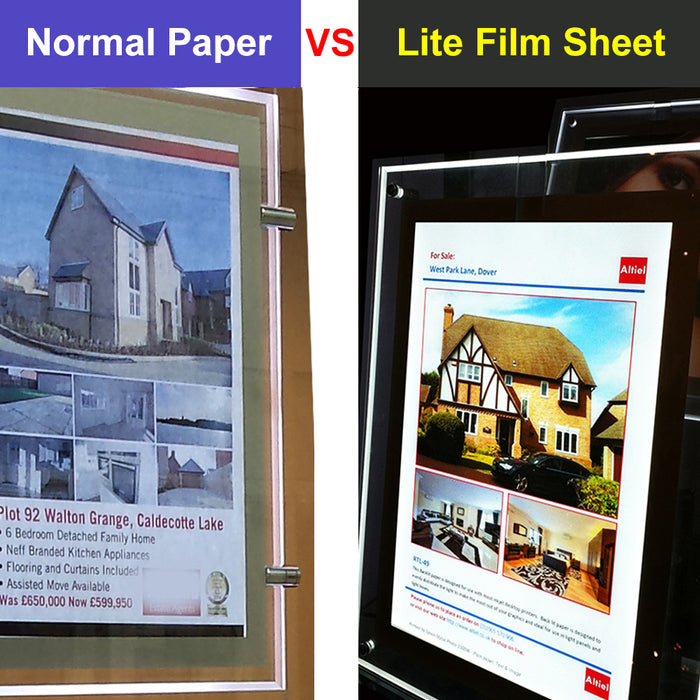 RTL49 (A4)
Premium Lite Film® for Any Printers
Description
A4 Premium Lite Film®: 140µm - Ideal for Backlit Displays
(Commonly referred to as Backlit Film or Paper)
Sheet size
297mm x 210mm 
Features
Exceptional colour reproduction, compatible with both laser copiers and inkjet printers.

Effortlessly prints with photographic-quality visuals and text.

Optimized for LED panels, ensuring the most vivid and brightest imagery.

Produces sharp, radiant, and brilliantly luminous visuals.

Designed for maximum storefront impact by 

"Stay Bright" Technology Film

Resistant to curling and fading for lasting quality.

Engineered for seamless printing compatibility.

Enjoy lasting prints: Free from colour fade and paper yellowing concerns.
Guide for Printer settings
Compatible printer
All Inkjet printer
All Laser printers and MFD's (All-In-One)
Here are compatible Laser printers / copiers list from our customers and many other models are excellently compatible as well. (All inkjet printers are 100% compatible too). 
Cannon IRC3580, Laser-Jet  (MFD)
CANON IMAGE RUNNER ADVANCE C5035i
Canon Imagepress VP6000
Canon imageRUNNER ADVANCE C5030
Canon Inkjet, Laserjet x 2
Canon IR C3580
Canon IRC 2380
Canon MX8800
HP Laserjet 4650
HP M276NW
HP M276NW Laserjet
Konica Ineo 550
Konica Minolta Bizhub 280
Konica Minolta Bizhub C224
Konica Minolta Bizhub C364 
Konica Minolta C224E
Konica Minolta, Bishub C452, LaserJet (MFD)
Konica Minolta, Bizhub C284e
Lexamark Laserjet printer
Meriel Hoban
OKI MC562w laser printer
OKI ES9465/ES9475 MFPs
OKI MB492/MB562w MFPs
Ricoh 3 in 1 C2500, Laser-Jet  (MFD)
Ricoh 3 in 1 C2500, Laser-Jet  (MFD)
Ricoh Afcio MP c2800-pcl6 
Ricoh Afcio MP c2800-pcl6
Ricoh Aficio MPC3500, Laserjet (MFD)
Ricoh Aficio MPC3500, Laserjet (MFD)
Ricoh Africo MP C305 PCL 6
Ricoh C3003
Ricoh C3003
Ricoh infotec ISC 2525
Ricoh infotec ISC 2525
Samsung CLP-365W Laserjet
Samsung CLX-9201NA
Samsung MFP
Sharp MX3100N
Task Alfa 3051C / Laserjet MDF
Tosheba, LaserJet
Toshiba 2555 laserjet printer
Xerox 7220
Xerox Laserjet printer
Xerox Phaser 7500 - Laser
Xerox WorkCentre 7125
Xerox WORKCENTRE 7345
Xerox workstation 7830